Surfing Puerto Escondido, Mexico
Puerto Escondido is Mexican't version of Pipline. 
Just because it's a " beach break" doesn't make it any less dangerous. Neck broken, board piercing, current and solid waves mean this waves when it's large is experts only.
Surf season Puerto Escondido
The season starts from late April to the beginning of May and goes until early September. Mexico's version of Pipeline comes alive during the peak season of May to August, seeing swells that would be too big for most. It will be most crowded during June, July, and August. To beat the crowds, come during September, October and early November.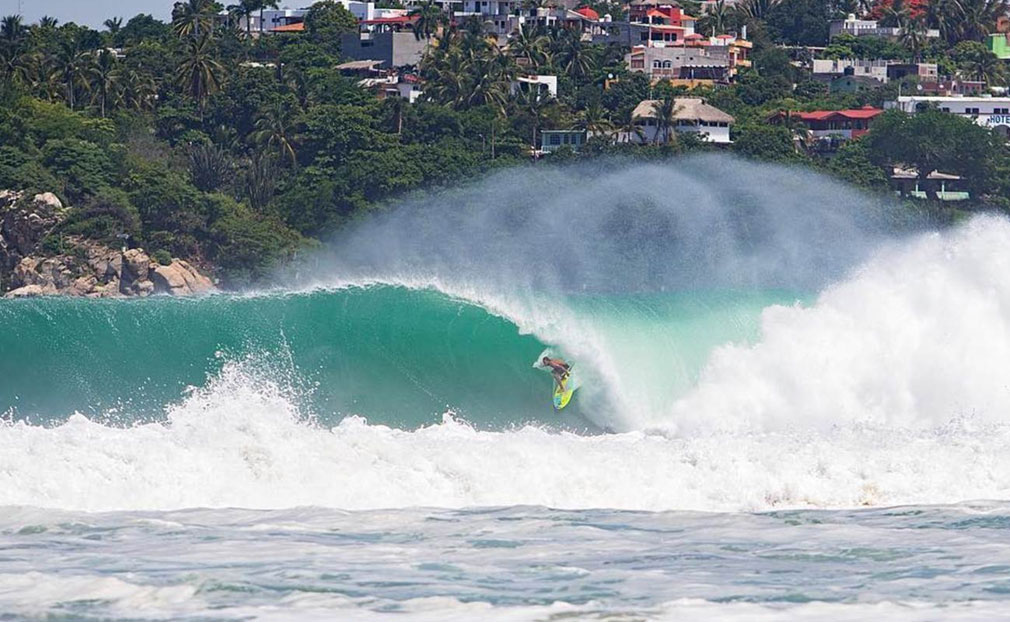 How to get there
Puerto Escondido is in the state of Oaxaca, on the Pacific Coast of Mexico. There is a small airport with daily flights arriving and departing to Mexico City and Oaxaca City. If you are flying you will most likely grab a flight connection through Mexico City and arriving directly at PXM (Puerto Escondido Airport).
If you are lucky enough to live in Southern California, tickets are very inexpensive if you are willing to walk across the Mexican-American border to take a flight departing from Tijuana. There is a convenient sky bridge connecting the TJ airport directly to the American side of the border.
Zicatela Beach is what most people think of when they think of surfing Puerto. Zicatela is for expert surfers, or surf viewing enthusiasts. It is a beach break with three main peaks with a sand bottom. It is deceptively heavy. If you plan to surf Zicatela you will want to bring bigger boards. When Zicatela is over 3-4 feet, even your step-up is going to feel small. A lot of people actually buy boards specifically for Puerto and leave them here. Storage prices start at $10/month. Zicatela will both humble you and thrill you. Treat it with respect and you might just get the barrel of your life.
The town surrounding Zicatela beach is the happening place to be! There is only one main street that runs the length of the beach. It is filled with surf shops, amazing restaurants, and beautiful hotels. If you need to find a decent board or a new leash you will want to ask for Miguel's surf shop, located near Bungalow Zicatela.
Surfing Puerto Escondido
Surfing Padang Padang
Mexico's most famous wave
Surfing Padang Padang a surf & travel guide
Hits: 207